It remains conventional wisdom that the US current account deficit is the accumulation of a debt that will one day need to be repaid. There are very good reasons to believe this is false. The US in fact has net external assets, and this is not a temporary phenomenon – it's structural.
How can the US constantly run current account deficits and accumulate net external assets? Simply put, by being better at trading assets and investing than the rest of the world. Imagine Warren Buffett buying assets on behalf of America and Germany's Landesbanken acting on the rest of the world's behalf. You may feel like stopping there. One invests for the long-term in high-returning, highly efficient businesses, the other falls for every investment fad, has no deep understanding of risk, and systematically destroys value. Assume that each year the Landesbanken invest slightly more than Warren – which one do you think will create more wealth?
That in fact seems to be the story of the US net external balance sheet. Now, some economists get very confused by this observation – mainly because they just take the BEA's estimates of the US net external balance sheet position at face value. On the BEA's measures, the US has net external liabilities of around $7trn.
How could they be so wrong? Mainly because their method of measurement is deeply flawed. Typically, external asset/liability positions are proxied by cumulative flows on the current account – so if you run a deficit you have 'liabilities' – or through attempts to measure 'market values', for example, by proxying changes in oversees FDI valuations using price changes in local stock markets.
These measures are completely misleading, for a host of reasons. For starters, investing in US overseas FDI is likely a far higher returning (and less risky) investment strategy than buying the MSCI world equity market ex the US. Similarly, overseas FDI into the US is notoriously poor – you would almost certainly be better off in the S&P500.
Buffett v the Landesbank
It seems far more sensible to take a present value of net income to measure the net external balance of the United States. Original work on this from the early 2000s has been supported by subsequent trends in US international net income (see chart below), later popularised by the unhelpfully-named 'dark matter'.
But the key point is that using a present value of net income is only significantly misleading if the riskiness of US external assets is far greater than the risk of foreign holdings in America – or the income received is far more volatile than the income being paid. Risk is a tricky subject, at best. Is a 10-year treasury bond yielding sub-2% more or less risky than an Intel chip plant in Malaysia, which makes a double-digit return on capital? Not obviously. If we simply proxy risk by the skew on the return profile, the treasury is damn risky.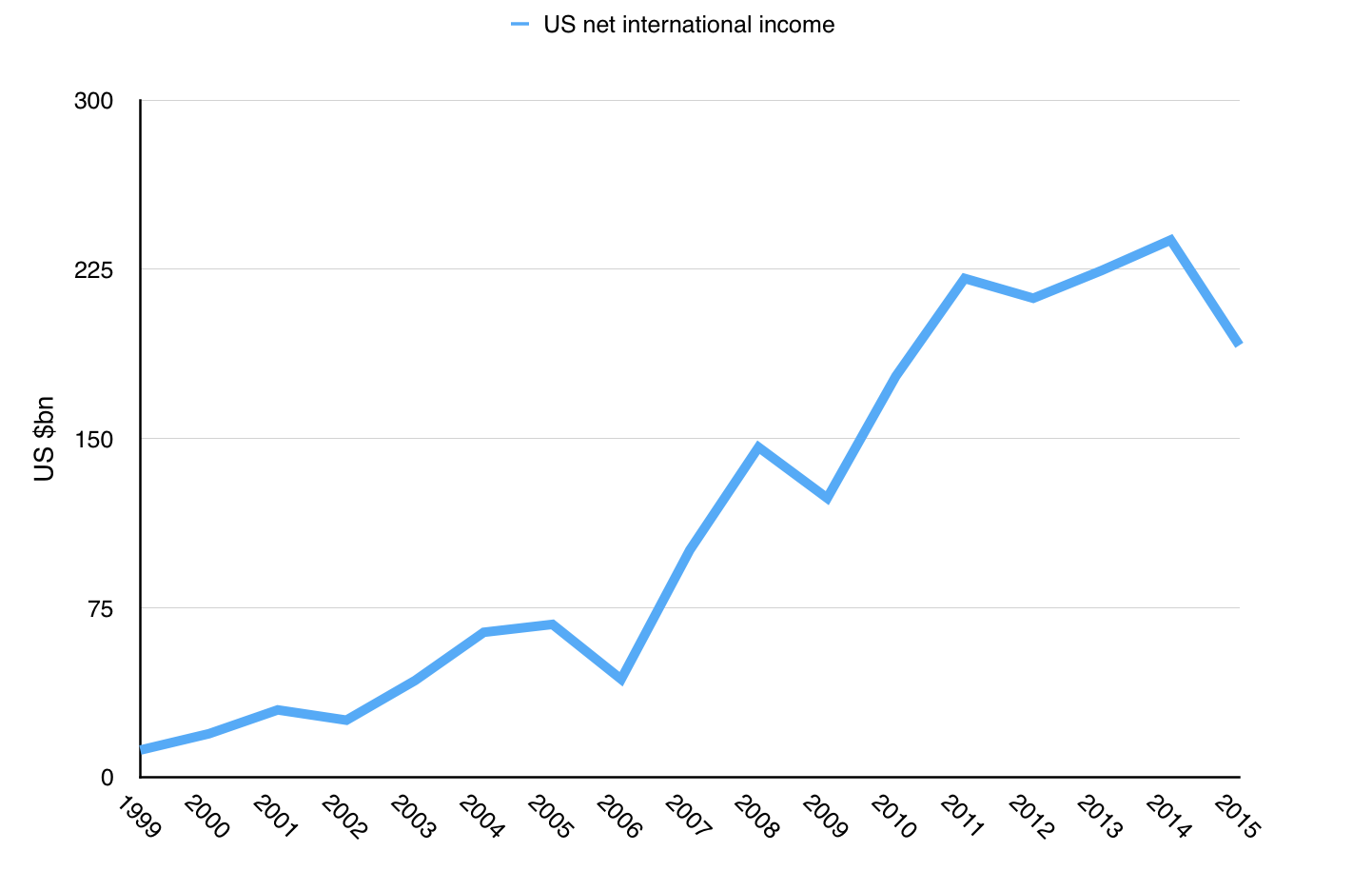 Another simple way to consider the validity of taking the present value of net income is to look at the relative volatility of the income streams – intriguingly, the income the US receives on its oversees assets appears less volatile than what it pays. In other words, US overseas assets appear less risky than foreign assets held in the US. In which case a simple present value of the US net investment income understates its position – we should apply a higher discount rate to foreign-owned assets in the US than the income from US assets overseas.
So here's the crux: American generates a high positive net income from its net international asset position – which implies its net external asset position is a positive number. Despite running permanent current account deficits, the US has accumulated net external assets. This sounds less counterintuitive if you think that all it means is that US assets oversees are more valuable than foreign holdings of US assets.
To highlight how significant the difference is, BEA measures of US net external liabilities are around $7trn, if we simply value the net income on a PE multiple of 14x, the net external assets of the US are around $2.7trn!
An inconsistency this large seems extreme, but consider the valuation of foreign direct investment (FDI). According to the BEA, net FDI of the US has a value of less than $1trn, although the US earns $424bn on its overseas FDI and foreign FDI in the US only earns $153bn. If we value both income streams on 14x earnings, the US has net FDI assets of $4.2trn – the BEA 'market value' estimates are out by $3trn.
Recent academic research has placed greater emphasis on the point that the US has positive net investment income, while running persistent deficits, but rarely concludes that this is a sustainable trend, or that it amounts to a steady accumulation of net assets. This excellent paper by Gourinchas & Rey instead draws an analogy between the US and a leveraged venture capital firm – the US is 'borrowing' by issuing treasury bonds and other 'safe' assets and is investing in high risk/high return assets overseas.
This is consistent with a leveraged "cowboy" stereotype. The correct analogy is Warren Buffett v the Landesbank. What looks most plausible is that the US has an edge in trading assets and making superior foreign direct investments. Selling balance of payments "insurance assets" to Asia and EM (i.e. low yielding treasuries) and accumulating high return FDI-assets in the same geographies creates net assets. Don't forget, insurance has negative expected returns to the buyer.
US portfolio investments are similarly superior – you know when a stock market is cheap or a positive structural break in profits is about to occur when US private equity and long-term investors start accumulating large positions. By contrast, foreign investors bought most US equity at the peak of the tech bubble in the late 1990s – US 'liabilities' which subsequently evaporated. And if you think its a one-off, remember how much subprime ended up on the balance sheets of Landesbanken, and other European lenders. Not only did the US sell low yielding pseudo-investment grade insurance. It then wiped out hundreds of billions of liabilities. And guess who is hoovering up non-performing loans in Italy and peripheral Europe at double-digit hurdle rates, as the European regulator forces local banks to engage in fire sales? Which country do the private equity firms with the largest stakes in Irish banks at the share price lows come from?
Now it is true that extreme differential risk preferences could result in wildly different market values for assets and liabilities, even if the net income stream is consistently positive. If a firm has borrowed at extremely low interest rates but has a high stock of debt we would be concerned, because at some point the debt might be redeemed or the refinancing rate might rise. Clearly the nature of US external assets are very different to its liabilities.
At the same time, of course, the balance of payments is not a firm. Having high foreign holdings of treasuries does not pose anything like the financial risk it has obtained amongst the paranoid commentariat. We should all have learnt from Japan and the Eurocrisis that in money printing economies, government bond prices are determined primarily by interest rate expectations. One implication is that it really doesn't matter what "foreigners" do. At the same time, of course, if US interest rates rise substantially, the profitability of Google's overseas assets does not rise in tandem, so net income could deteriorate. But I still wouldn't bet on US overseas investment income not compounding away at a far high rate – nor would I bet on far higher US interest rates any time soon.
Trading assets and selling financial "insurance" is a core US competitive advantage. In today's world that appears cumulatively more valuable than producing goods. So the economic significance of the US current account deficit to the balance sheet of America is trivial.
The official data completely mis-measure the US net external position – implying that it has net external liabilities. But the true picture is revealed by the net investment income which is significantly positive. Discount that cashflow to create a net present value and the US has significant net assets. The current account deficit is better than a free lunch – America gets paid to have lunch.
Thanks to @JWMason1 @NeilLancastle @Ramanan_V and @JoMicheII for discussion on Twitter